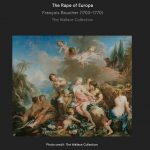 A Very Rare Late 19th Century Large Meissen Porcelain Plaque Entitled "Rape of Europa" after François Boucher
Ovid's 'Metamorphoses' (II, 835–875) tells of the abduction of Europa by Jupiter, disguised as a bull. Charmed by the bull's good nature, Europa climbed on his back, whereupon he bore her off into the waves, only stopping on Crete to ravish her. Boucher typically concentrates on the gallant aspects of the scene, eschewing any reference to the story's violent dénouement. The picture, with its profusion of flowers, represented Smell in a series of five monumental canvases symbolizing the Senses.
Boucher's painting (c.1732–c.1734) was acquired by Richard Seymour-Conway, 4th Marquess of Hertford, 1843; bequeathed to the nation by Lady Wallace, 1897.  It now resides in The Wallace Collection, Hertford House, Manchester Square, Greater London.
Plaque:
Height 14 inches / 36cm
Width  16 inches / 41cm
Frame:
Height 20.5 inches / 52cm.
Width  22.5 inches / 57cm
François Boucher was born in Paris, the son of a lace designer Nicolas Boucher, François Boucher was perhaps the most celebrated decorative artist of the 18th century, with most of his work reflecting the Rococo style. At the young age of 17, Boucher was apprenticed by his father to François Lemoyne, however after only 3 months he went to work for the engraver Jean-François Cars. Within 3 years Boucher had already won the elite Grand Prix de Rome, although he did not take up the consequential opportunity to study in Italy until 4 years later. On his return from studying in Italy in 1731, he was admitted to the Royal Academy of Painting and Sculpture as a historical painter, and became a faculty member in 1734.
His career accelerated from this point, as he advanced from professor to Rector of the Academy, becoming head of the Royal Gobelin factory in 1755 and finally Premier Peintre du Roi (First Painter of the King) in 1765.
Reflecting inspiration gained from the artists Watteau and Rubens, Boucher's early work celebrates the idyllic and tranquil, portraying nature and landscape with great elan. However, his art typically forgoes traditional rural innocence to portray scenes with a definitive style of eroticism, and his mythological scenes are passionate and amorous rather than traditionally epic. Marquise de Pompadour (mistress of King Louis XV), whose name became synonymous with Rococo art, was a great fan of Boucher's, and it is particularly in his portraits of her that this style is clearly exemplified.
François Boucher died on May 30, 1770 in Paris, France. His name, along with that of his patron Madame de Pompadour, had become synonymous with the French Rococo style, leading the Goncourt brothers to write: "Boucher is one of those men who represent the taste of a century, who express, personify and embody it."