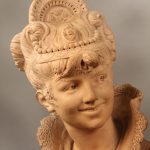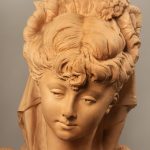 A Lovely Pair of Late 19th Century Terracotta Busts of Beautiful Girls by Adolphe Jean Lavergne
$5,500
Adolphe Jean Lavergne
The girls dressed in formal attire with tiaras and flowers in the their hair, each smiling with heads turned and gazing at each other.
Each signed Lavergne to the side.
Adolphe Jean Lavergne (1852-1901) was a French sculptor well known for producing very high quality figures in bronze and clay.
Details:
Height – 23 inches / 58cm
Width – 9 inches / 23cm