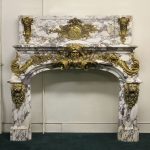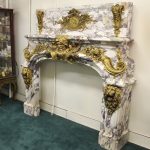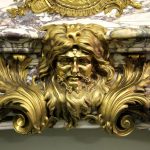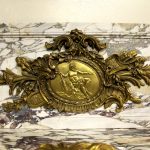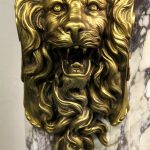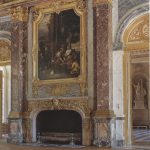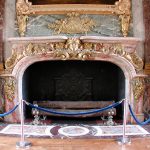 Very Important Late 19th Century Gilt Bronze Mounted Palatial Fireplace Surround
$500,000
This fireplace is an exact copy of the original 18th Century model that was made for The Salon de Hercules in The Palace of Versailles. After Antoine Vassé.
'Versailles'  by Jean-Marie Pérouse de Montclos pages 262/263
The Hercules Salon
The first salon of the King's Grand Apartment, the Hercules salon was actually the last to be created, at the end of Louis XIV's reign. From 1682 onwards, the chapel of the palace occupied its location over two floors and served until 1710, when it was replaced by the present chapel. To decorate this new salon, in 1712 the monumental painting by Veronese, The Meal at the House of Simon, painted for the refectory of the Servite Convent in Venice in 1570, was placed here. In 1664, the Doge had presented it to Louis XIV so that the king would support him against the Turks. Interrupted due to the death of the Sun King for ten years, the works on the Hercules salon lasted until 1736, when François Lemoyne completed the painting of the vault depicting the Apotheosis of Hercules, which was supposed to show that "Virtue raises man above himself". This vast allegorical composition with 142 figures aimed to rival the masterpieces of the Italian fresco painters but it was painted on primed canvases, i.e. glued onto the support. The young painter committed suicide shortly after ending this work.
Outside:
Height – 70 inches / 178cm
Width – 73 inches / 185cm
Depth – 14 inches / 36cm
Inside:
Height – 40 inches / 102cm
Width – 49 inches / 124cm