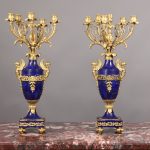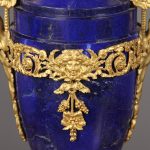 A Fantastic Pair of Late 19th Century Gilt-Bronze and Lapis Lazuli Six Light Candelabra
Each vase surmounted with central square candelabrum issuing five acanthus scrolled branches.The front and reverse centered by a female mask and the sides with winged cherub.
Lapis Lazuli is one of the most sought after stones in use since man's history began. Its deep, celestial blue remains the symbol of royalty and honor, gods and power, spirit and vision. It is a universal symbol of wisdom and truth.
Details:
Height – 28 inches / 71cm
Width – 13 inches / 33cm
Lights – 6