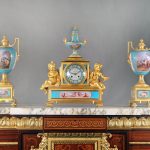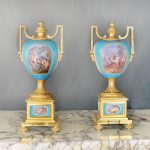 A Wonderful and Important Mid 19th Century Gilt Bronze and Turquoise Sèvres Porcelain 'Jeweled' Three Piece Clock Set
$35,000
By Raingo Frères
The clock surmounted by a covered urn with gilt porcelain handles, the clock face signed Raingo Fres A Paris, with two large gilt bronze cherubs on either side. Three porcelain plaques painted with scenes of Putti at play on the bottom and sides. The two vases depict painted scenes of Putti on the front and landscapes on the back, four plaques complete the bottom front, sides and back.
Raingo Frères
The clockmaker and bronzier Raingo Frères was founded in 1813 by Zacharie Joseph Raingo. He was born in 1775 in Belgium, lived in Tournai, was active in Ghent and moved to Paris in 1813. In Tournai, he probably made one of his first astronomical clocks with planetarium which was his specialty.
Raingo was named the "Watchmaker-Mécanicien" by the Duke of Orleans and "Watchmaker-Mécanicien du Garde-Meuble de la Couronne" (Supplier of the King of France) in 1824. King George IV of England bought a planetarium-clock of Raingo in 1824.
In 1834, the company received an honorable mention in an exhibition in Paris.  While the four Raingo brothers were first recognized as clockmakers, in 1841 they added bronzes and furnishings to their repertoire. Known for the quality of their ormolu (gold plating), by 1860, Raingo Frères had furnished bronzes, garniture (decorations) and table pieces for the apartments of Emperor Napoleon III and his wife, the Empress Eugenia, examples of which are now in the collection of The Louvre. They later produced small models of works by contemporary artists, such as Pradier, Carrier-Belleuse, and Auguste Moreau. They also collaborated with famous ebeniste François Linké.
In 1862, the company was present at the International Exhibition in London. In the world exhibitions in 1867, 1878 and 1889, the company also won several medals, even a gold medal in 1898. Some of their works are in different museums like Musée des Arts et Métiers in Paris, Museo Poldi Pezzoli in Milan and in Palacio Real de Madrid
In late 1739 – early 1740 the Sèvres Porcelain Factory opened in the Royal Château of Vincennes, Sixteen years later in 1756 the factory moved to the village of Sèvres located outside of Paris and in route to Louis XV's Palace of Versailles where it became the preeminent porcelain manufacturer in Europe. When the company ran into financial difficulties, the King who had become an avid client bought out the shareholders and became the sole owner. The factory remained in the royal family until it was nationalized following the French Revolution.
The range of objects produced in the first half of the nineteenth century was enormous, as were the types of decoration that they employed. The Sèvres factory produced  ninety-two new designs for vases. The factory is still in production today.
Clock
Height – 23 inches / 58cm
Width – 19 inches / 48cm
Depth – 9 inches / 23cm
Vases
Height – 19 inches / 48cm
Width – 7 inches / 18cm