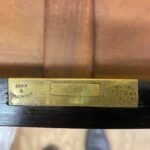 An Exceptional and Unusual 19th Century Louis XVI Style Gilt Bronze Mounted English Partners Desk Made for the French Market
$125,000
The rectangular top with gilt-tooled leather writing-surface within a molded border above a long central drawer designed with scrolling grapevines and centered with the royal crown, and two smaller side drawers similarly designed above two pillars, each with four drawers with finely casted bronze key holes and handles with mounted legs and feet on casters. The reverse composed in the exactly same manner. The sides of the desk with more scrolling grape vines along the top and centered with the royal crown surrounded by foliage and berries with a large stemmed bow, the inside of the pillars by the feet are decorated with the same bronze mounts.
Because of the style, quality and designs of the bronze mounts, this special desk was most likely commissioned for a client of royalty.
Every lock on every drawer is stamped "Cope & Collinson Royal Patent Lever".
The origins of Cope & Timmins can be tracked back to 1760, when Cope and Austin, manufacturers of builders and furnisher's brass foundry, were established in Birmingham.
To give some perspective of the timeline the business started to trade 4 years after the birth of Mozart (1756), 10 years before the birth of Beethoven (1770), 45 years before the battle of Trafalgar (1805), 52 years before the birth of Charles Dickens and 55 years before Waterloo (1815).
Cope & Timmins was created by the merger of 2 companies – Cope and Collinson and Clarke & Timmins – in 1897, and one of its first new products was a brass railway curtain rod.
In 1911 Joseph Thomas Davey, then cashier, formed a company to look after the London trade exclusively, so Cope & Timmins (London 1911) Ltd was born. In the 1930s, the company moved and expanded its spring-making from a one-floor department to a 5-floor factory in East Road, London.
Details:
Height – 30 inches / 76cm
Width – 72 inches / 183cm
Depth – 42 inches / 107cm